May 16, 2021 2:00 pm
Sometimes I think the world is really dumb and then I remember that someone called the reunion between J-Lo and Ben Affleck, Bennifer 2.0 and just like that, I feel my faith in humanity suddenly return.
In my last blog I wrote about my love of numbing myself in nineties and noughties nostalgia. Friends, Sex and The City, Seinfeld et al. I wrote about how I had found myself, during these uncertain times, wishing for the days of yesteryear. There is, after all something quite soothing about looking back at old misogynistically charged interviews of Britney Spears and marvelling at how much we let The Patriarchy get away with.
It has recently come to light that I am not the only one expressing an interest in all things retrograde and pining for the past, (but please, still no, on the Facebook Memory). With Friends streaming its' reunion on 27th May and Sex and The City announcing the filming of, 'And Just Like That!' it seems to be the age of the noughties reunion.
But another noughties reunion has also reportedly been trending on Twitter. To be fair its more of a Naughty Reunion! I am of course talking about none other than, 'Bennifer: 2.0'!
If you're not down with the kids, Bennifer: 2.0 is the name the kids, well, let's be fair, us millennials are giving the rekindled romantic reunion of none other than Ben Affleck and Jennifer Lopez. This has delighted me so much I've been gleefully walking round my flat with the same ecstatic-ness as I would if Brad Pitt and Jennifer Anniston had announced they were getting back together. (OMG PLS GOD MAKE IT HAPPEN).
Yes, we might have lost the tech savvy, dream team that is Bill and Miranda Gates to the town of Splits Ville (dude, it's not a town, it literally has the word 'ville' in the title), but fear not from the people that brought you 'that green Versace dress that google images was invented for' and 'the guy that is the acting equivalent of a cup of tea' (simple, yet compelling), we now give you, Bennifer: 2.0! (This time she won't dump him for a Latino singer and he won't be so deliriously heartbroken that he married a woman with the same name as her).
I mean what next? Does this mean they will bring J-Lo Glow perfume back into manufacture? (No, really because I'd love to smell like my sixteen-year-old self again- that perfume has wonderful notes of getting fingered in a Wetherspoons toilet).
The world might be on fire but so are their loins because Bennifer is back! So pour yourself a glass of something bubbly, whack a bit of Jenny from the Block on, wear something that exposes your clavicles, chest, breasts and belly button and remember Reunited Love Don't Cost a Thing!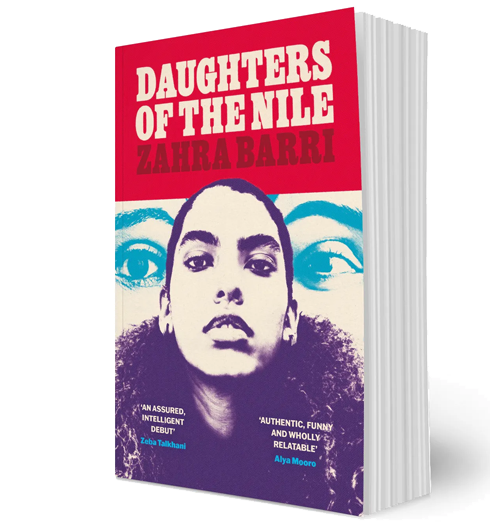 Pre-order ·
Daughters of the Nile
A bold multi-generational debut from Zahra Barri, exploring themes of queerness, revolution and Islamic sisterhood.
Available in paperback or ebook.
Order now