back to homepage
'Take your coat off love, or you won't feel the Benefit.' Carol at The Job Centre
'Take your coat off love, or you won't feel the Benefit.' Carol at The Job Centre
'Take your coat off love, or you won't feel the Benefit.' Carol at The Job Centre
February 19, 2014 11:28 am
Ever since I made my New Years' Resolution to read less Daily Mail Showbiz and Entertainment News and MORE Independent Culture and Arts News I've found that my mind has somewhat expanded in length. Don't get me wrong I'm still pretty small minded, (at least I'm not big headed), but switching from what my boyfriend calls 'Tory Turd Propaganda' to the more respectable, less agenda filled  Independent has been highly beneficial for my brain. Although that might be coincidental, because I have introduced more omega fish oils into my diet, which has also been proven to improve brain function. Yeah ………I watch Dr. Michael Mosley's documentaries and not just Embarrassing Bodies, contrary to popular belief.
 I initially tried to switch to The Guardian but that was like jumping from Haribo infused Crack Cocaine to Mung Bean and Tofu Stew.  NB: Eating Mung Bean and Tofu Stew leaves you in a rather 'George Osborne' type state, in the fact that you can't afford to expend energy.  Which brings me to further digress-do you reckon George Osborne, when he gets an idea on energy a light bulb goes off in his head?
But let's get back to the topic of this Blog. It was whilst reading The Independent Culture and Arts section that I stumbled across a review of Channel 5's 'The Big Benefits Row' starring Katie Hopkins and White Dee. Now after a few bits of googling and Wikipedia-ing I realised that White Dee was not a character off Breaking Bad but in fact a white women called Deirdre. She also lives on 'Benefit Street'-a fictional made up street, very similar to Sesame Street in the fact that it's full of big birds and people learning to read.  Tonight's episode of 'Benefit Street' is brought to you by the letter 'P' and the number '45'. Alas, I do jest. Benefit Street is not an imaginary street, envisioned by a manipulative Channel 4 Producer, perish the thought. But rather an actual street in Birmingham called 'James Turner Street'. I don't know why they couldn't just call the show James Turner Street to be honest.
Channel 4's 'Benefit Street' has recently caused controversy (I know this because it was trending on Twitter) and added further uproar to the big 'people on benefits' debate. I personally don't have a problem with people on benefits. Most of my friends are on benefits. I myself am more of a 'friends with benefits' type of girl. And if you read Made In Chelsea's Binky's Beauty Blog in the Daily Mail (sorry) you'll see that she herself is also on Benefits. The only difference is Binky's are of the Benefit Make Up ilk rather than Job Seeker's Allowance.
Channel 4's 'Benefit Street' has got more and more people talking and more and more people getting angry about the Welfare State in the UK. The Welfare State isn't 'well fair' it's more Laissez-Faire. No one seems to be doing anything, or adapting the system. The Government are burying their head in the sand, turning a blind eye (happens when you bury your head in sand) and letting people abuse the system. Don't get me wrong I am all for people getting the benefits and aid their social predicament deserves. I'm just not up for people abusing the system and getting something for nothing.
I mean on one hand I take the NHS Founder Aneurin Bevan stance that 'Illness is neither an indulgence for which people have to pay, nor an offence for which they should be penalised, but a misfortune, the cost of which should be shared by the community'. But it's when certain individuals 'pull a sickie' so to speak, they ruin the system for everyone else. This is essentially what is happening with the Benefit system. Too many people are pulling sickies and illegally claiming benefit. Don't they realise that if they keep their metaphorical coat on they won't feel the benefit? It's the Crying Wolf syndrome, they can cry crocodile tears to get benefit but when they really are too ill to work will the system have by then become too suspicious to give hand outs?
Channel 5 shrewdly picked up on this very current debate and set up a panel show which if the Independent's review is anything to go by, was more Jeremy Kyle meets Iceland's take on Question Time rather than an actual valid debate. This was mainly because instead of David Dimbleby you had Dim Dee. (I actually take this back White Dee was highly and surprisingly astute and articulate). Here are some of her best bits-roll VT.
(After Katie Hopkins swore) 'I bet the bookmakers never bet that she'd be the first one of us to swear.'
And this little gem:
'Every mother is a working mother.'
Anyone who can make Katie Hopkins look like a chav in Chanel clothing gets my approval.
But despite White Dee's surprisingly witty come backs to the infamous devil woman that is Katie Hopkins, the show failed to really cut the surface and achieve any sort of democratic peace or resolution. Instead it lead to sheer chaos with Matthew Wright desperately trying to maintain calm by shouting 'What about people who avoid tax?!'. Fair point, rich people do scummy things too. Thanks Matthew, you've successfully subdued the working class' rage at victimization down, somewhat.
Maybe it was because there were too many women on the panel show. We all know a panel show can't work with too many women on.  You only have to watch Mock The Week to realise this. Panel Shows are for men only, (women don't do DIY). Panels should divide a wall, let's not let them divide Society.
Anyway, The Independent's review managed to undermine Channel 5's good intentions. I say 'good' by airing the debate channel 5 did come across as wanting to address social issues, with increased ratings being merely a by-product of course. The Independent branded the debate a farce, calling it the 'Katie Hopkins show'. Channel 5 seems to be the dumping ground of TV no one wants. It survives on the hand me downs of elder more sophisticated and grown up siblings. BBC gave it 'Neighbours' when it had outgrown it and even Channel 4, the rebellious Middle Child, grew out of Big Brother. It seems the same has been done with Katie Hopkins. She's gone from BBC's 'The Apprentice' to ITV's 'This Morning' and now at her lowest ebb a Channel 5 'Debate' show. More like Channel 5 'Bate' show. For that's all she was to Channel 5, game bate. Maybe her agent said she had a job with Chanel no. 5 not Channel 5? That might explain a few things.
The Independent then went onto reference Katie Hopkins recent surge of television experiences with the term 'Hopkinisation.' And this is when I knew that my New Year's Resolution was the best thing I ever did because NEVER, EVER have I learnt a new word when reading The Daily Mail. Well, unless you count 'Selfie' and 'Cara Delevingne'. 'Hopkinisation' is derived from the noun 'Katie Hopkins'. Sorry did I say noun? I meant clown.  So THANK YOU The Independent for that.
See I told you my New Year's Resolution has opened my mind.  Reading articles like 'The Big Benefits Debate' Review in the Culture and Arts section of the paper has made me think more deeply about society and 'Hopkinisation' and White Dee challenging stereotypes and The Welfare State and the NHS and tax laws and the Government and Politics and Matthew Wright's satirical outburst as a method of crowd control.
Looking back The Daily Mail Showbiz and Entertainment News only really offered me shallow images of z-list celebrities walking down the street, (it did then tell me where I could get their handbag from though). But The Independent Culture and Arts Section makes me think more deeply about society by reading a review of a Channel 5 Show with Katie Hopkins and a white woman on Benefits.
DISCLAIMER: Zahra never actually watched 'The Big Benefits Row' (just read The Independent's Review of it). She did contemplate watching it but decided to watch ITV's 'The Big Reunion' instead.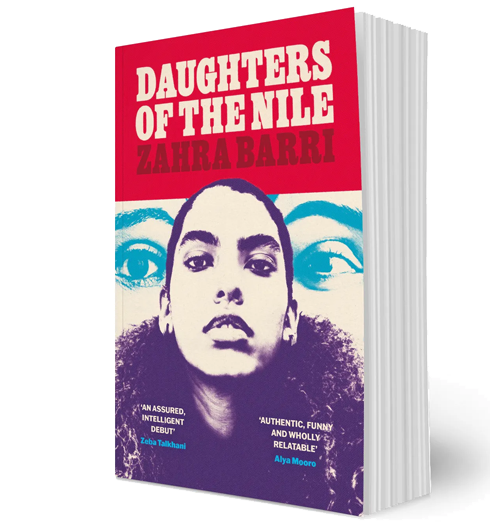 Pre-order ·
Daughters of the Nile
A bold multi-generational debut from Zahra Barri, exploring themes of queerness, revolution and Islamic sisterhood.
Available in paperback or ebook.
Order now