back to homepage
Wax Lyrical-Rip Advisor: The Ultimate Bikini Wax Guide
Wax Lyrical-Rip Advisor: The Ultimate Bikini Wax Guide
Wax Lyrical-Rip Advisor: The Ultimate Bikini Wax Guide
December 7, 2014 7:01 pm
As a Middle Eastern woman, its fair to say I've had my fair share of bikini waxes. In fact, I love getting a bikini wax, because when I get a bikini wax, not only do I lose hair but I also lose weight. As you can imagine this is every woman's dream, after all looking like a prepubescent adolescent and being thin is bang on trend right now (THANK YOU KENDRA JENNER). But as every modern Feminist woman knows, beauty comes at a price. Bikini Waxes can set you back quite a lot of dosh. Not only does do they come at a hefty price they also come with a lot of pain. Ripping hot wax from around your genitals isn't even something that Anastasia Steele would do for Christian Grey in '50 Shades'. In fact if she did it wouldn't be called '50 Shades of Grey', it'd be called '50 Shades of Red'.
Despite this, millions (I've not done the research but at a guess) of women everyday get Bikini Waxes. Why do it? If it breaks the bank and hurts so much, why do we do it to ourselves? Most people would presume they are doing it to please their partners, but I like to give women more credit than that. As a Modern Feminist Woman, I get my bikini waxed for me. Not for a Man. OK, sometimes, sometimes I might get one just before a date. A fifth date I am not a total whore, but that, THAT is purely coincidental.
So anyway, Bikini Waxes are a bit like periods, its something you have to get through every month that you have to spend a bit of money on and go through quite a bit of pain with. Its almost, quite literally a pain in the (front) bottom.
So! OVER ACTIVE FOLLICALLY CHALLENGED WOMEN OF THE WORLD!! ATTTENTION!! What if I told you that I had found a place which does bikini waxes without any pain whatsoever? ……….. Interested? Come closer.……I have found a place which uses a highly innovative new waxing technique which is practically, statistically almost totally pain free. The wax is referred to in salons as 'Hot Wax'. Not to sound all Jennifer Anniston in that Loreal advert back in the 90's but 'Here comes the science……..'
"Hot wax also know as hard wax or peelable wax, is a wax that does not require paper strips to remove it, it is peeled off. As the wax sets it shrink wraps around the hair and lifts it up from the follicle. When it sets it then simply peeled off. It is the most suitable wax for facial, underarm and bikini waxing. It is great for sensitive skin."
Like all great scientific discoveries I stumbled on this phenomenon by accident. It was an ordinary run of the mill day and I'd booked a basic bikini wax at a local salon by my place of work. Waxing comes under 'Life Admin'. And like most people I like to sort out my 'Life Admin' on my lunch break at work and not in my precious free time (that's for pissing about on Facebook). So I walk in hungry and hairy to this beauty salon and they put me in a room with whale music and she tells me to remove my knickers and get into the childbirth position. Not her exact words but you get the drift.
She then starts her work. But there's something different. I tell her, this feels like nothing I've ever felt before, I feel warm and fuzzy down there. It reminds me of a cross between when I lost my virginity and the time I had thrush at Uni and I inserted a Canesten Once Applicator. I must've mumbled something in my delirium because she starts whispering sweet nothings in my ear, (telling me its this new type of wax). I say keep going, don't stop. Even though in the back of my head I'm thinking, I'm pretty sure I have to pay extra for this service. But I am in ecstasy (no pain) so I let her keep going. And then everything went a bit surreal after that…………when it was over I looked down and it was the most beautiful thing, and it hadn't hurt one little bit. Tiffany was so gentle, so considerate, so respectful and minus the part where she asked me 'Do you want your lips done?' it wasn't awkward at all.
The wax cost me £35 and it was the best wax I've ever had in my life. I walked out of that beauty salon and felt like a real woman. Strong, confident and without the burden of eternal sin. It was like Eve had never eaten an apple from a forbidden tree or spoken to an evil talking snake. Female Pain of waxing had been eradicated. I'm writing this blog to let other women know of such a paradise. But before I reveal the location of this magical place, here's some reviews of salons I've had bikini waxes in the past………
LADIES I GIVE YOU……….
Rip Advisor The Ultimate Bikini Wax Review Guide
Tan OnE Beauty Salon, Shepherds Bush
Where better to get your bush done than in Shepherds Bush hey? WRONG.
This place was embarrassing. Firstly the woman took one look at my stomach and asked if I was pregnant. YES. PREGNANT. Then when she took a closer look at my nether regions she started screaming and moaning in Spanish and then grabbed my wrist and looked into my eyes and uttered the words 'electrolysis' and 'too thick' a number of times. Then after the wax, she grabbed me by the scruff of the neck to Reception and shoved a load of Laser and Permanent Hair Removal leaflets in my face in front of everyone.
Bikini Wax Score: 2/10
The Doll's House Beauty Salon, Barnes
I was mainly drawn to this place because I had read in Time Out (alright Cosmo) that Delta Goodrem (Neighbours star and Brian MacFadden's ex wife) used to go there. Where better to get your Down Under done than a place where a famous soap star from Down Under gets her's done, hey? WRONG. This place did a good job but was pricey as hell. OUCH. (Although the place did retain some kudos by calling itself after a revolutionary, pro feminist Ibsen play.
Bikini Wax Score: 4/10
The Clifton Beauty Salon, Bristol
This salon was great because unlike London salons, Bristolians give you paper knickers to wear, to cover up your modesty. The only downside to this bikini wax was that I bumped into my friend's husband who was having a back, crack and sack wax. TOTES AWK.
Bikini Wax Score: 6/10
The Cocooon Beauty Salon, Hammersmith
This was great. Cheap, nice lady. Took one look at my downstairs and asked if I was Middle Eastern though. God bless my ethnic pubes.
Bikini Wax Score: 8/10
And the winner is………
Essentials Beauty Salon, Drury Lane, London
Best Bikini Wax EVER. No pain, no embarrassment, nice lady, nice venue, reasonably priced. I'VE FOUND THE ONE GIRLS. I AM COMPLETE.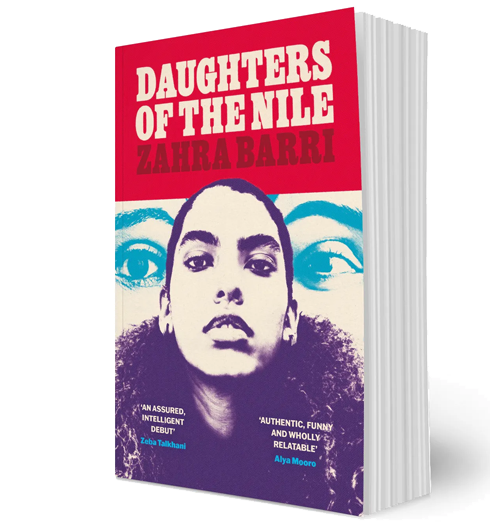 Pre-order ·
Daughters of the Nile
A bold multi-generational debut from Zahra Barri, exploring themes of queerness, revolution and Islamic sisterhood.
Available in paperback or ebook.
Order now