back to homepage
You Know Its Christmas When the Coca-Cola Ad Comes Out. You Know Its 'Merry Fucking Easter' When The Pepsi Ad Comes Out
You Know Its Christmas When the Coca-Cola Ad Comes Out. You Know Its 'Merry Fucking Easter' When The Pepsi Ad Comes Out
You Know Its Christmas When the Coca-Cola Ad Comes Out. You Know Its 'Merry Fucking Easter' When The Pepsi Ad Comes Out
April 13, 2017 6:00 pm
Not name dropping or anything but the other day I was hanging out with my Mum. I know. Now I'm not saying my Mum is like a celebrity or anything, she's no Jack Whitehall's Dad or Ramesh Ranganathan's Mum but she is the mum of Zahra Barri so I think that counts for something. So, my Mum and I were hanging out. By 'hanging out' I mean that we were going up and down the aisles of Tesco Extra in Bradford and I was rinsing her dry. I love going food shopping with my Mum she literally lets me buy anything because she still feels guilty about what happened when her and my Dad got divorced and I stopped eating for like, six months. She doesn't mind me taking the piss in Tesco- she's just grateful I'm showing an interest in food again and not acting like a character from Skins circa 2007.
As I was saying, me and my Mum were having a mother daughter day in Tesco. Most mothers and daughters have their quality time together at The Spa, but I find Tesco a much better supermarket. We adopted our normal mother/daughter type roles. My Mum following me around like a child talking inanely at me about the cat, whilst I push the trolley with the same amount of thrust and gusto as a soccer Mom about to pick up five kids, at the same time pretending that I give a shit about said cat's eye infection. (Sorry Malcolm). Now, I was chucking stuff in the trolley like we were about to go in an Anderson shelter for a couple of months (well we are bombing Syria) whilst at the same time having a penchant for the finer things in life. I mean, I was chucking in bumper packs of Tesco finest caviar, a box of wine, a couple of Camemberts, half a dozen packs of smoked salmon, a party box of cocktail sausages, avocados, Manuka honey, an F and F dress (she's happy I'm finally comfortable with my body too), bottles of Prosecco and crates of Diet Coke. It was as I added the Coke to our trolley that I got reminded of the new Pepsi advert, featuring Kendall Jenner.
I asked my Mum if she'd seen it. She turned her nose up and declared snobbishly in the same tone that an Oxford Grad would declare his First Class Honours Degree:
'I don't watch the Kardashians, I don't care for them'. Like it was something to be proud of. She stuck her nose up in the air and walked to the baked bean aisle. (Aisle number 12).
I vehemently reared the overflowing trolley towards aisle 12 and parallel parked between the tins of fish and hoi sin sauce to catch her up.
'Yeah, Mum I know you're too busy with higher brow stuff like Emmerdale and Dinner Date' I retorted.
I then proceeded to explain to her that it was an advert that featured a Kardashian (sort of, Kendal is the half-sister of Kim), not an actual episode of the Kardashians. She continued to stare at me blankly.
I know. I honestly don't understand how we are related.
To be fair a lot of people haven't seen the ad. And a lot of people sadly never will. It's one of the greatest tragedies of the modern world.
NOT. (Ha remember in the 90's when people would say NOT!!' All the time? Those were the days).
No. The advert IS a tragedy of the modern world. I wrote 'is' in capitals to emphasise it, I didn't mean Islamic State, although some might say Islamic State is a great tragedy of the modern world too, I suppose.
This is because it caused so much fracas, (not used that word since Jeremy Clarkson punched a producer in the face), and controversy that Pepsi were forced to take it down after just 24 hours of releasing it. But why? I hear you ask.
Let me paint you a little picture. (I can't show you because it's been taken down).
The advert depicted Kendal Jenner abandoning a model shoot in favour of joining a protest march. I know as if a Kardashian would drop a photo shoot in the name of a humanitarian cause. The only thing a Kardashian normally drops are her knickers. Now the political agenda of this protest march that she absconded to remained unspecific throughout the commercial. It gave clues though, like the marchers held up peace signs and billboards saying 'Join The Conversation' so I'm probably guessing it was a left wing protest march, possibly for an important humanitarian cause like Better Snap Chat Privacy Settings or Rights for Vegans or something like that. Anyway let's not carried away with what the Protest was for, the important thing is, that there is a protest and Pepsi support them. So, Kendal Jenner abandons her model photo shoot to join this march. A lot of people in and around the protest march are drinking Pepsi. I presume this is done because without Product Placement in an advert it's not really an advert it's just a sort of arty short film. Also the product placement of Pepsi in the Pepsi ad helps to avoid the viewer confusing this protest march for the actual news. I don't know if you've noticed but news footage these days is a lot of Donald Trump, Putin, Assad, Theresa May's legs and protest marches. Protest marches are becoming as frequent as Ubers or finding a Pret A Manger within a 2 mile radius.
The main bit that caused the most amount of complaints was that upon joining this generic, unspecific protest march Kendal grabbed a can of Pepsi and offered it to one of the cops controlling the march which had connotations that Pepsi was some sort of peace offering that could bring people together. How lovely! NOT. It was kind of similar to the Christmas Eve ceasefire which happened in World War One between the English and the Germans in 1914 but instead of trenches, Pepsi have dug themselves a hole. In which to bury themselves in.
After Kendal hands the can of Pepsi to the cop everyone in the protest march which included a Muslim women in a hijab and a young Asian man (because in case it wasn't clear Pepsi are not racist) loses their shit and cheers and applauds Kendal's supposed peaceful gesture. Like give her a Nobel Prize already. Cue, Twitter going mental in outrage. Bernice King, the daughter of Martin Luther King Junior even tweeted:
'If only Daddy would have known about the power of #Pepsi.'
Another tweeted, 'Wow protests are so in right now'
I know they are! All the hipsters are at them. The other day my friend went on a Tinder date with a guy from Shoreditch who was an intern for a record label, who ate avocado based meals and had a beard and the thing he suggested they do as a first date? You've guessed it protest march! She didn't know what the protest march was for but she was so glad that she was going out with a man who showed an interest in philanthropic work because her last boyfriend was such a dick, he told her he helped the homeless, turns out he was an Estate Agent. Brrrr.
Alas I'm getting all anti- Bechdel Test now, where was I? Oh yes, the backlash for this ad was unyielding; ferocious even.
People not only mocked the ad for being ridiculously hipster but on a more serious critique, people commented that the ad was incredibly insensitive to those living in cities where political protests and political disharmony were rife.
For me the most controversial thing about the advert was that model Kendal Jenner reaches for a regular Pepsi and not a diet one. As if! She's a model! The other day I was trying to decide which was more lightweight a Kindle Touch or a Kendal Jenner.
Like Kendalls and Kindles, the intention of the Pepsi ad was hard to read. However amidst the backlash, Pepsi released a statement saying:
"Pepsi was trying to project a global message of unity, peace and understanding. Clearly, we missed the mark, and we apologise. We did not intend to make light of any serious issue. We are removing the content and halting any further rollout. We also apologise for putting Kendall Jenner in this position."
I'm sorry Pepsi but you aren't Coca-Cola and this isn't the season finale of Mad Men.
It was Mother Teresa who said she will never attend an anti-war rally. But she would attend a peace protest. If she saw Kendal Jenner 's Pepsi ad she'd probably change her mind it was that bad.
But all this got me thinking about how we advertise and why we advertise and should we advertise. The amount of product placement in adverts these days is despicable. I'd like to see just one ad where there is no product placement whatsoever.
Bill Hicks said if you work in advertising go kill yourself. But even the Samaritans advertise. It seems a necessary evil. Or is it?
What I've noticed is that people that make out they're great are shit and people that make out their shit are great. That's why I think the best type of advertising is not advertising. As a comic I appreciate the Stewart Lees and the Daniel Kitsons to the comics constantly in mainstream TV. They might make less money but they are way more funny.
There's something so much more authentic, it's like going to a small little family run Italian rather than a Pizza Express.
It's like ten thousand spoons when all you need is a knife….
No wait those are Alanis Morisette lyrics.
As a society the way we are viewing adverts is changing. With the surge in non-linear TV (that's a fancy way to say like Netflix and Chill et al devices) we are not watching ads in the same way. They're coming through Facebook algorithms and other internet vestibules; bizarrely the only reason I found myself watching the Pepsi Kendal Jenner ad was through Twitter.
But whether it's through TV or social media we can't get away from adverts telling us what to buy, what to think and how to live our lives.
I have a dream that one day a product will not be judged by their advertising campaign but by the content of their product.
John Lewis have hired one heck of an imaginative creative team but does their product actually cut the mustard? Do they even sell mustard? I wouldn't know because their adverts feature woodland animals jumping around in gardens on trampolines and old men on the moon scaring young boys for crying out loud.
We don't advertise cigarettes because their considered harmful but the John Lewis ad has made me paranoid of leaving my trampoline in the garden overnight.
I think we should end all advertising because then everything will be on even playing field and the true stars/star products will shine through, not because they've got good PR and advertising teams but because their product actually does what it says on the tin.
So Pepsi and Kendall Jenner I'm glad you're controversial, offensive, highly insensitive advert has been dropped. Here's to all advertising being dropped!
While we're at it why don't we drop make- up? Make- up is in itself false advertising and if everyone stopped wearing make-up we would all be on an even playing field. Your ridiculously beautiful friend would still be ridiculously beautiful compared to the average but she wouldn't have to bother with make-up. Ditto your ugly friend. And ditto your average looking friend. We'd all be the same amount of beautiful that we are now, we'd just have a lot more time and a lot more money and probably a lot less insecurities and be a lot less vacuous.
After all in the words of Joey Tribiani from Friends, 'I'm not interested in her sweater, its what's underneath the sweater that counts.' Whether it be advertising a product or advertising yourself. Do away with busying yourself with how your product looks, concentrate on what's on the inside of that product, the core. With that in mind, I must dash I booked myself an anal bleaching appointment. (If that's not making sure you look good on the inside I don't know what is).
But before I go I am pleased to announce that I will be performing my show Zahra Barri: Talk Like An Egyptian at The Edinburgh festival from the 3rd -28th August every day at Bar 50, at 9.45pm. Tickets/Info on the Edinburgh Fringe Website.
No that wasn't me advertising my show. That's just information I decided to put out into the ether for no particular reason or intention or agenda whatsoever.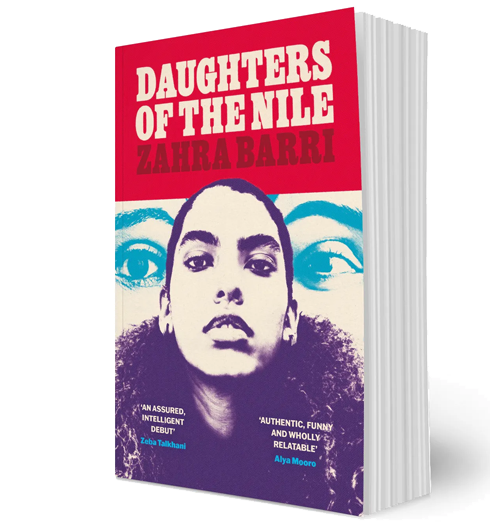 Pre-order ·
Daughters of the Nile
A bold multi-generational debut from Zahra Barri, exploring themes of queerness, revolution and Islamic sisterhood.
Available in paperback or ebook.
Order now